GlenMar Horse Camp for Kids – 2018

Four Sessions:
June 26 – 29

Full

July 9th – 12th

Full

July 23rd – 26th

Full

Aug 6 – 10

Limited space remaining!

Aug 13th – 16th

Full
Cost: $250 per week – 9 am to 1 pm each day.
Download the Enrollment Form: Summer Horse Camp for Kids 2018 – Enrollment Form
Open to ages 6 and up, under 6 with special consideration. They will learn what it's like at a working show horse facility. The kids will participate in fun activities that combine equine education with hands on learning. Campers will learn riding (Equitation), ground work (Showmanship) and horse care. We will also spend time learning about other aspects of the horse.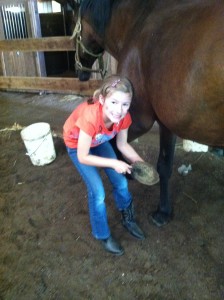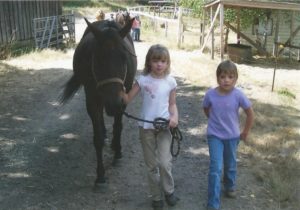 Eight years ago, this little camper (on the left) attended her first horse camp at GlenMar. Now she is my assistant for camps and horse training.
Margo Hepner-Hart has been in the Horse Industry for over 30 years, training, showing, and instructing. Margo is also an International Horse Show Judge.
We support teamwork, hands on learning, working hard, and playing hard!
Our Camp is designed to provide a fun and safe introduction to horses, horse care, and riding. We provide lots of time with horses on the ground including handling, grooming and tacking up, and group sessions where campers learn about other aspects of horse care and management.
Sign up now before all the fun is full!
Margo Hepner-Hart
10556 NW 195TH Ave
Hillsboro, Or, 97124
503-645-0400
Email: mhhorses@aol.com
Download the enrollment form or print this page and fill out starting below:
---
GLENMAR HORSE CAMP FOR KIDS 2018
Margo Hepner-Hart
10556 NW 195TH Ave, Hillsboro, Or, 97124
503-645-0400

Name of Child: _______________________________________________
Address ____________________________________________________
___________________________________________________________
Phone Number _____________________email ______________________
Parents name:
Mother ___________________________Phone _____________________
Father ____________________________Phone _____________________
Has your child had any experience with horses? ______
If so, how much and/or what kind? ___________________________________________________________
Date and Time:
Please check the week you would like to attend and number the other weeks in order of preference, in case one is full and I can move you to another week. If there is a week you are unable to attend let me know. Please make sure that the kids are picked up at 1pm.
Check a date:
___ Aug 6th – 10th
Cost: $250 per week – 9 am to 1 pm each day.
What to wear:
Long pants, any kind of top, shoes with low heels and high tops and helmet. Kids may bring snacks and something to drink.
Cost; $250 per week, to be paid with this form. Any age is accepted, under 6 with special consideration. Special; if you refer this offer to a friend or sibling you will get a 10% discount. This camp will provide fun and equine education at a working show horse facility.  The kids will learn about feeding, grooming, stall cleaning, saddling, riding and rider communication with the horse, safety and arena etiquette.
Please fill out this form and send along with the check as soon as possible since this camp does fill fast.
Hold Harmless
Attendee herby agrees to hold Margo Hepner-Hart/GlenMar Farm , Hepner-Hart Horse Training, barn owner, or any agents of Margo Hepner-Hart/GlenMar Farm, Hepner-Hart Horse Training or barn owner, harmless from and against any and all claims, actions, damages, liability and expense in connection with loss of life, personal injury and/or damage to property arising out of the use or care of this horse camp. Notice this is an equine facility. All activities on these grounds are subject to the Equine Inherent Risk Law. ORS 30.687– 30.697. By your presence on these grounds you have indicated that you have accepted the limits of Liability resulting from inherent risks of equine activities. All persons on these grounds will be regarded as participants and limited by the inherent risks law. GlenMar reserves the right to cancel or change dates if necessary, and will notify each applicant if either happens.
For (Child's Name) _______________________________________________
Signature of Parents _____________________________________________ Date ____________________
Hepner-Hart Stables/GlenMar Horse Camp for Kids
LIABILITY RELEASE AGREEMENT FOR EQUINE ACTIVITIES ORS 30.687 TO 30.697 THE
UNDERSIGNED ASSUMES THE UNAVOIDABLE RISKS INHERENT IN ALL HORSERELATED
ACTIVITIES, INCLUDING BUT NOT LIMITED TO BODILY INJURY AND PHYSICAL HARM TO
HORSE, RIDER, AND SPECTATOR. In consideration, therefore, for the privilege of riding and/or
working around horses at Hepner-Hart Stables/GlenMar Horse Camp for Kids, located at Hillsboro,
Oregon, or at any other venue in which the undersigned is associated with Hepner-Hart Stables, the
Undersigned does hereby agree to hold harmless and indemnify Hepner-Hart Stables, their agents, and
assignees and further release them from any liability or responsibility for accident, damage, injury or
illness to the Undersigned or to any horse owned by the Undersigned or to any family member or
spectator accompanying the Undersigned on the premises of Hepner-Hart Stables , or any other venue
pursuant to the limitations set forth in Oregon Revised Statutes concerning actions arising out of equine
activities ORS 30.687 to 30.697. "Inherent risks of equine activities" shall mean those dangers or
conditions, which are an integral part of equine activities, including but not limited to: 1) the propensity
of any equine to behave in ways that my result in injury, harm or death to persons on or around them
and/or damage to property in their vicinity; 2) The unpredictability of an equine's reaction to such things
as sounds, sudden movement and unfamiliar objects, persons or other animals; 3) Certain hazards such as
surface and subsurface objects; 4) Collisions with other equines, animals, people and objects; 5) The
potential of a participant to act in a negligent manner that may contribute to injury to the participant or
others, such as failing to maintain control over the equine or to act within his or her ability. I acknowledge
that I have read this Release Agreement, agree to be bound by its terms, and understand the inherent risks
in equine activities as set forth in this document. If I am an adult signing on behalf of a minor child I
acknowledge I have authority to sign the document on behalf of the minor and I agree to hold harmless
and indemnify Hepner-Hart Stables, from any and all claims on behalf of the minor covered herein.
_________________________________
CAMPER'S NAME
__________________________________________________________ __________________
SIGNATURE OF PARENT                                                                     DATE
__________________________________________________________
PRINT NAME